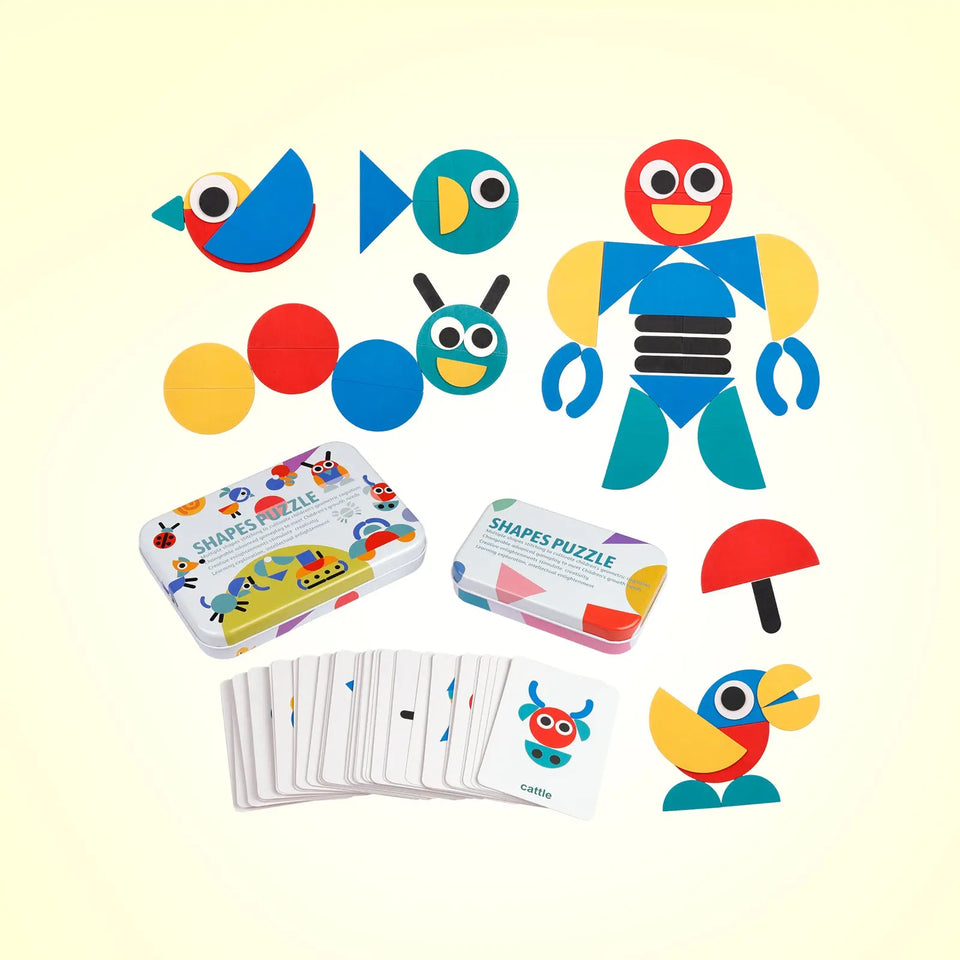 Wooden Pattern Blocks Shape Puzzle Set
puzzle040
by Coogam
Pre-school Education Toy: The Coogam pattern block set contains 36 wooden pieces and 60 different pattern cards including animals, bugs, birds etc. kids can trying to figure out what pieces make the designs on the cards and create their own design.

Safety and Environmental : It is made of Environmental protection and and healthy wood. The pieces are well painted and do not have a bad smell. smooth surface, no sharp edges and won't hurt the baby's delicate skin play safety.

Encourage Imagination & Creativity: Various wooden shape blocks and colorful animal geometry patterns. Follow the cards to create the different animals from the color wooden shapes. These pattern block are a effective way to encourage child to construct freestyle shapes, helps your child develop their critical thinking, fine motor skills, dexterity and problem solving preparing them the essential skills for future life .

Attract children's attention: Beautiful bright vibrant colors more likely to attract children's attention, Montessori Educational Toys gets your kids distracted away from the TV or tablets for a long period of time.At the same time you have enough time of peace and quiet to do whatever you need to do.

Happy Family Time: Parents are the best teachers for kids, these Animals Jigsaw Puzzle encourage you to play along with your child, it will not only let the children fully enjoy the joy of the game, but also increase the interaction with the kids, let children grow up and learning in the games. Educational Toys is the best Christmas gift or birthday gift toys for 3-5 years old babies.
My children love this puzzle!
My children live this puzzle, they will play with it for hours! They love figuring out the different puzzle cards on their own!
Fun activity for a toddler
My 3-year-old received this as a gift and LOVES it. It is something he can do on his own without any help from an adult. It requires him to look at a picture and figure out how to recreate it with the supplied objects. I would 100% recommend.
cute little activity
There not thick. There a good size for little hands. There slick and slide around a lot. Which sometimes aggravated my son. Hes three but was able to do most of the pictures. Both came in little tins. Separate tins for cards and pieces
Excellent learning toy for kids
Absolutely LOVE this toy. My daughter does not get tired of this, we can constantly bring it out and it still engages her interest. Great for teaching shapes and spatial reasoning.
Great game!
Overall its great! I dont like the way the shapes stick together and when I pulled it apart the color came off too. Im not particularly picky so I dont care. Its sturdy enough. I love how the shapes and cards come in different tin cans. Keeps it more organized.