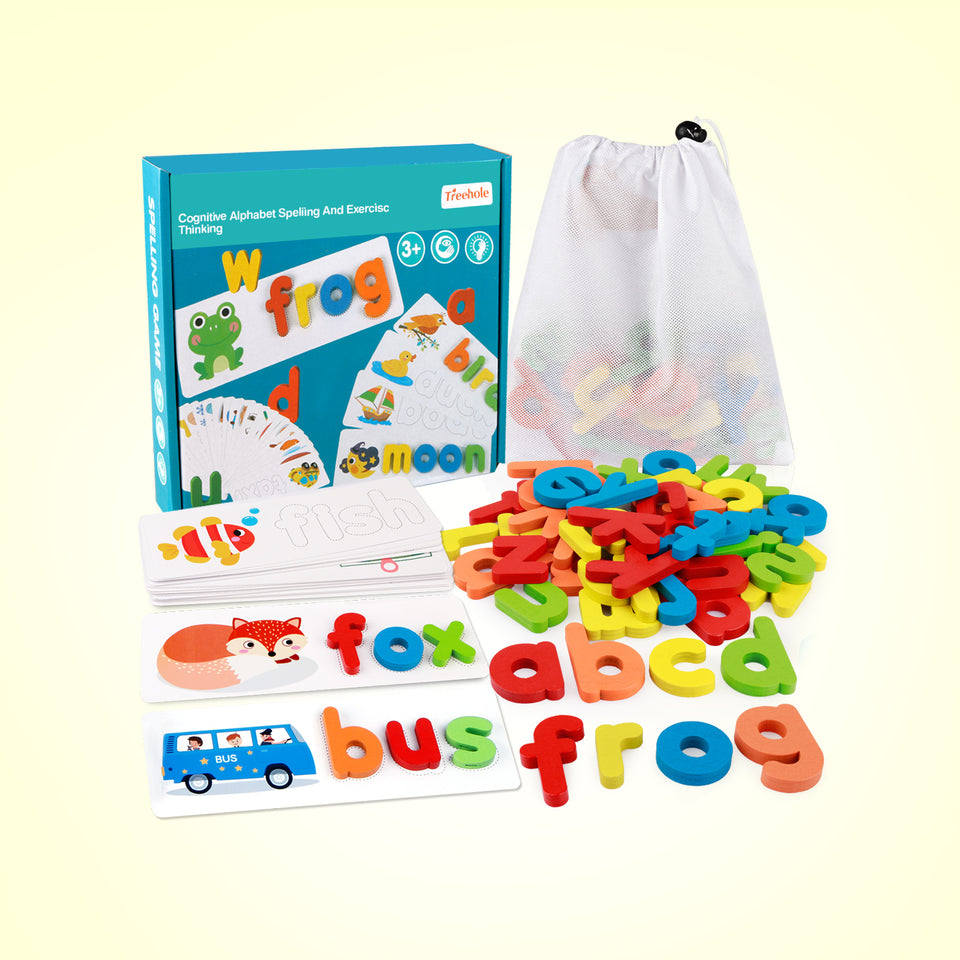 See Spelling Learning Toy Wooden ABC
puzzle050
by Coogam
Excellent Sight Word Vocabulary Learning: wooden spelling words game, matching letters puzzle contains 28 double-sided activity flashcards, 52 wooden lowercase letters. like other coogam puzzles, there is a sturdy cover for the section that holds the letters. Kids can read what each card says because the picture next to it as a reinforcement really helps.
Spell Alphabet Puzzle: select a few letters to have kids figure things out on their own. Kids can create their own paper boards and extend that learning and play process. Also, learns how to read, while at the same time practicing fine motor skills, pronunciation of words, spelling, colours etc. A good result by making education a game.
Safe ABC Flash Cards: As with all Coogam wooden puzzles, this is well made and durable. BPA free and nontoxic, double-sided alphabet flash cards are coated with matte finish waterproof material, smooth edges, friendly to handle. Gives you the opportunity to build and expand your child's developmental play which is why a product worth having.
Entertained Teaching: First, pick a card. Next find the letters that correspond to the flash cards and conbine them. Then complete the word conbinations. An exceptional bag for storage and carrying around. Great introduction to start building words from spelling 3 and 4 letter words.
Make it A Gift Puzzle: An excellent way of helping to learn phonics and reinforce letter sounds for 2-8 year olds. Make it a Christmas Gift, birthday gift, holiday gift for your little kiddos.
Perfect Learning game for little ones at home
I really liked that my little one likes it so much. He wants to spell his words daily. I wish it had more letters but we can do a couple of cards at a time.
Excellent quality
My 2.5 year old loves this. He is always asking to play with it. The wooden letters are so well made. Excellent quality. My only critique is that the words chosen are not all phonetic (e.g. "ice"). For very young children just learning the letters of the alphabet and their sounds, ideally you would introduce only phonetic words (like "red", with no silent letters (like the silent e in "ice"), to avoid confusion. But other than that I am very happy with this set.
Good Quality
It's just like it showed, I Love it.
It's really nice, and the price was great.
Than you so much.
Great purchase
My four year old that has a hard time focusing and concentrating loves this! He enjoys spelling the words and he doesnt feel like is actually learning he thinks he is playing! Thats a +++