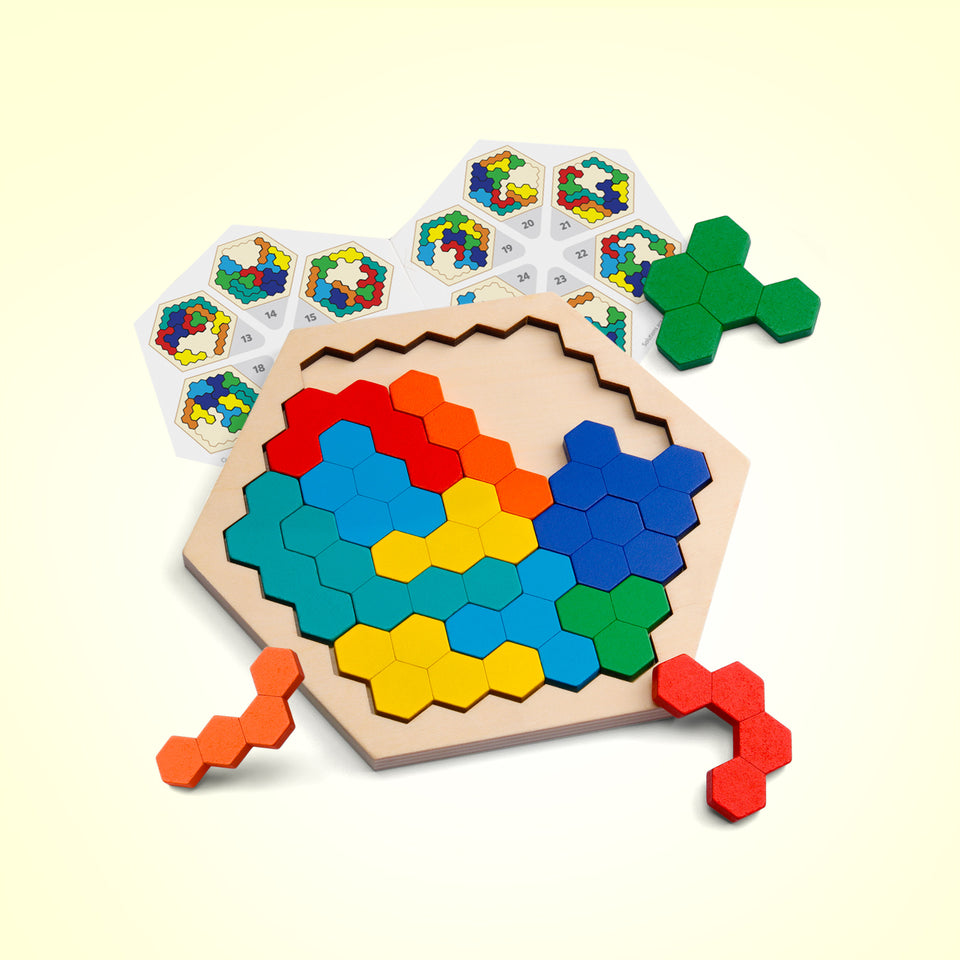 Wooden Hexagon Puzzle for Kid Adults
puzzle039
by Coogam
Geometric IQ Game: Endless possibilities for kids adults building blocks, not only limited to the instructions, but also try to figure out more solutions to make fantastic works of art. Put the pieces in and fill in the bottom plate, then you make it!
Logical Learning Puzzle: 7 color and 14 pieces different shape blocks make a terrific brain puzzle. Each side measures 3.54 inch, Product size: 7.3x6.3x0.39 inch (outer frame included). Package contains a detailed instruction for a new player.
Superior Quality: Made of natural and healthy basswood with high quality and smooth surface. Non-toxic paint ensure safe play. Great alternative to tablet games.
Gives The Brain A Work Out : Simplest design with bright colors help to spark any imagination and creativity perfectly. Making shapes and patterns provide a better chance to practice fine motor skill, hand-on coordination,even kids' spatial thinking. Make mind working from now on.
Challenge For All Ages: Not only suitable for puzzle lovers, but also attractive for puzzle beginner. Who will not love montessori wooden toys? Playing with it as if you are learning math, practice arragement and combinations. Perfect ultimate gift idea.
Did,nt try it yet, but hope those are good as one I already hace. Thanks
Great for adults too!
I got these puzzles for my 81-year-young mom who suffers with anxiety. This puzzles distract her and help her to calm down. I will do the puzzles with her as well, and they are challenging and very fun!
Wooden Hexagon Puzzle for Kid Adults
my clients love them
I work in mental health and I use these to help teach problem solving skills and my clients love them!
Life of the party.
This puzzle was for my 3 yr. old great nephew but everyone from adults on down wanted to play with this puzzle, it became the Christmas parties main focus. My 9 yr. old great nephew solved it before anyone including the adults but he is a genius. Sorry I'm getting of topic; this is a great gift and I will be buying more and salting them through out Iowa.