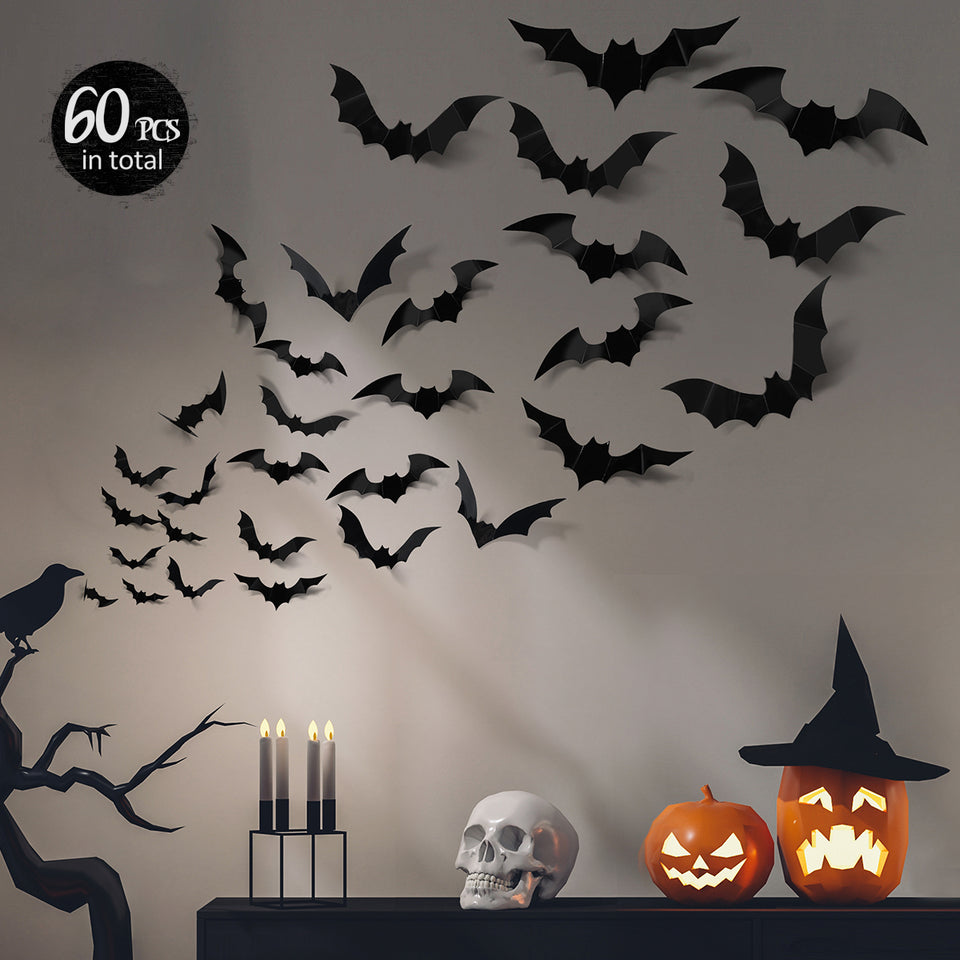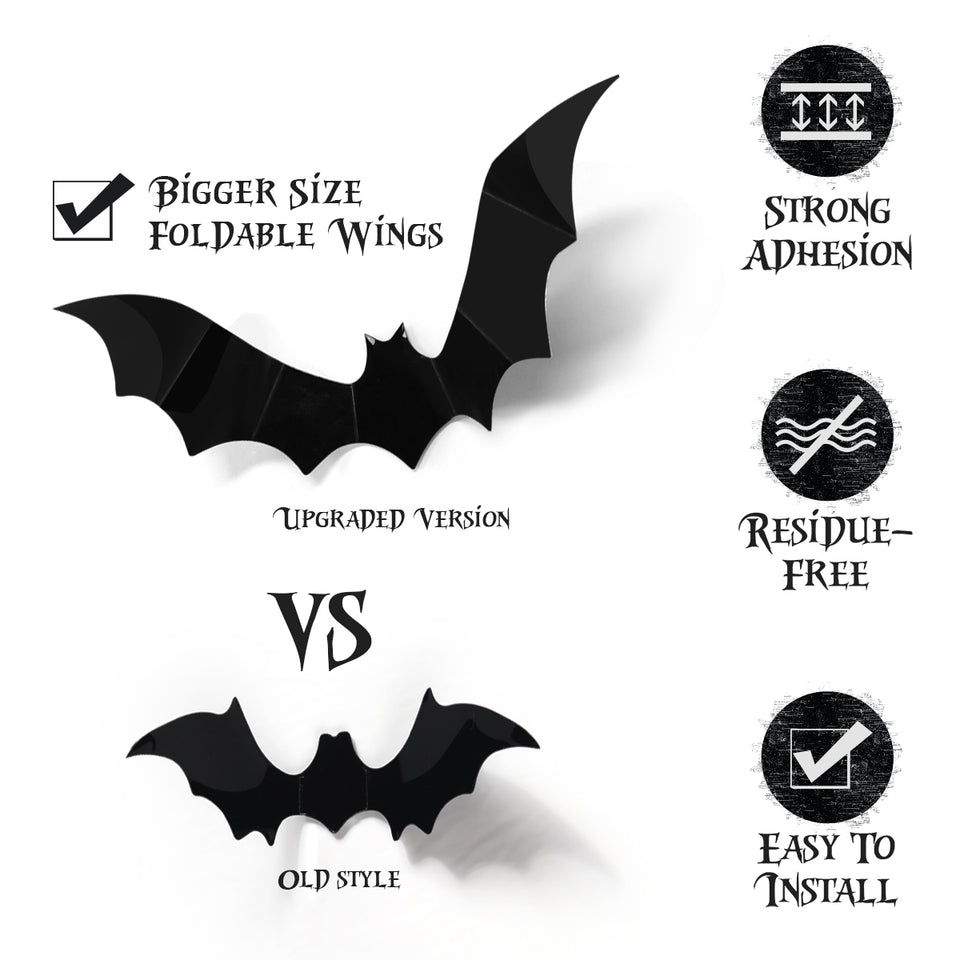 Coogam Halloween 3D Bats Decoration
Xmas043
by Coogam
Package Content: There are 60 scary black bats in the Halloween Decorative Bats Set. It contain 3 different styles and each style is in 4 sizes(approximate: 12in x 4.5in; 9in x 3.3in; 5.9in x 2.2in; 3.1in x 1.2in). Double-sided adhesive pads are included in the package as well.

Upgrade Version: These 3D Bat Stickers are in a larger size and added new styles, making it much more vivid and lifelike. Upgrade sticky foam, with strong adhesion to stick well on the surface while easy to remove. No damage to the surface; no residue when being removed.

Safe & Durable Material: Made of premium PVC, these bat stickers are sturdy, thick, and durable, allowing it can be used for many years. Non-toxic sticky pads, safe and smelless.

Various Application: The 3D Bats is a great decoration to your door, wall, ceiling, window, fireplace, cabinets...It is well made and looked great. An excellent addition to Halloween, Theme Party, Ghost Festival, and other occasions, bringing some horror atmosphere.

Easy to Put Up: Attach the included foam pads on the back of the bats and affix them to a smooth and dry surface. Then fold them to create 3d effect, making it look like they are flying. You can arrange them in any fashion you like. (TIPS: Do not stick to the vents, or it is easy to fall off and remember to clean the dust off surfaces before applying)
Fun Halloween Bats
I absolutely love these. Its a great value, you get a lot in one pack, and they are easy/versatile. These bats will be a staple going forward in our Halloween decorating. Will definitely order again!
Good Value, and Cute
I was pretty impressed with the amount and variation for the price. They are very thin, but the material seems hardy. I used painters tape on the back of the ones attached to the house and it seems to be working well. They have lines along the wings that you can crease to create a more 3D effect, if thats what you are going for. They are very shiny which I didnt expect, but it doesnt bother me.
Super cute, but doesnt stay up
These are super cute and easy to make fun spooky season decor come to life. However, the adhesive stickies it comes with are really weak and about half my bags fell down within 1-3 days. Went out and bought my own stickies and now they stay up just fine.
Don't use the sticky backs on windows!
So these were pretty cute and I overall really liked them until taking them down and they left all kinds of residue on all the windows. So then I had to spend hours removing them when I should have just used my own sticky buttons or something.
Cute but break easily
These bats are really cute and are hanging behind my couch. This kit comes with a lot of bats to work with (although I haven't used any of the small bats). I did not use the adhesive that comes with the package as I don't want to leave any marks on my walls (masking tape was a great substitute). The biggest drawback for me is that I can't actually bend the wings as advertised for the 3D effect; when I tried to bend the wings on a few bats, the wings snapped off. Even with a slight bend the wings would start to crack.